ABLOY SOLENOID LOCK [50mm BACKSET] WITH LATCHBOLT FAIL SAFE/SECURE - 12/24VDC [Outside handle electrically controlled. Inside handle always operates]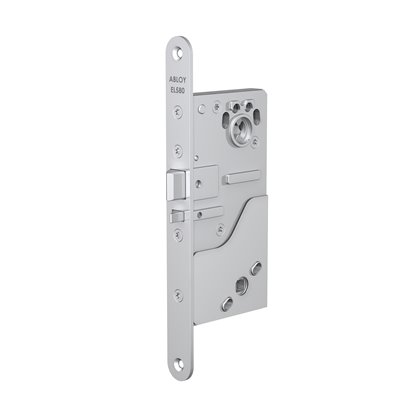 ABLOY SOLENOID LOCK
For wooden or metal doors, with deadlocked latchbolt, fail locked/fail unlocked
Outside handle controlled
Bolt position and handle operation
Request to exit (RQE)
Selection of controlled follower side
APPLICATIONS:
- interior and exterior doors of e.g. business premises, public buildings, hospitals and schools
- exit doors
- fire rated doors
- not suitable for use with door automatics

FUNCTION:
- handles on both sides of the door: outside handle is electrically controlled (e.g. by reader or push button), inside handle opens the lock always.
IF YOU ARE PURCHASING A REPLACEMENT LOCK PLEASE ENSURE YOU HAVE ORDERED THE CORRECT SIZE LOCKCASE [BACKSET SIZE] AS WE ARE UNABLE TO ACCEPT RETURNS FOR THIS REASON. [THE BACKSET IS MEASURED FROM THE EDGE OF THE DOOR TO THE CENTRE OF HANDLE OR CYLINDER]. PLEASE CALL IF YOU REQUIRE A DIFFERENT SIZE BACKSET TO ABOVE.